Inter-troop challenge 2019/20
Posted on 22nd April 2019 by Tony Brewis
New for 2019, we are introducing our District inter-troop challenge.
Scout troops in Chester-le-Street are challenging each other for the Brian Slack Trophy – it doesn't matter what the activity is, as long as it takes place in less than 24 hours and involves at least 3 Scouts from each troop. Each troop can challenge each other troop to an activity of their choice – the leaders enable the date and agree the winner (with the District Commissioner the adjudicator in the event of a dispute!) The challenges could take place on a normal meeting night or at another time, and can include the whole of each troop, or just a small group from each one.
Examples of challenges could be:
a five a side football game
a pioneering challenge
a laser tag game
a cooking over a fire challenge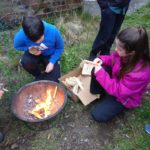 HOW IT WORKS:
The competition runs from St George's Day 2019 to St George's Day 2020. The activities must be chosen by one troop in advance and agreed by the leaders of both troops. Each troop may only compete against the other twice (with each troop challenging the other once) and there must be an equal number of scouts taking part from each troop team.
A winning troop from each challenge activity gets 3 points and the other troop may claim 1 point for participating in the challenge. A draw gets 2 points per troop. Results should be sent to the coordinating Scout Leader within one week of the challenge activity and will be posted on this page. In the event of a competition tie, the troop with the most wins takes precedence, otherwise a snap challenge between the level troops will be set by the District Commissioner on St George's Day to decide the winning troop.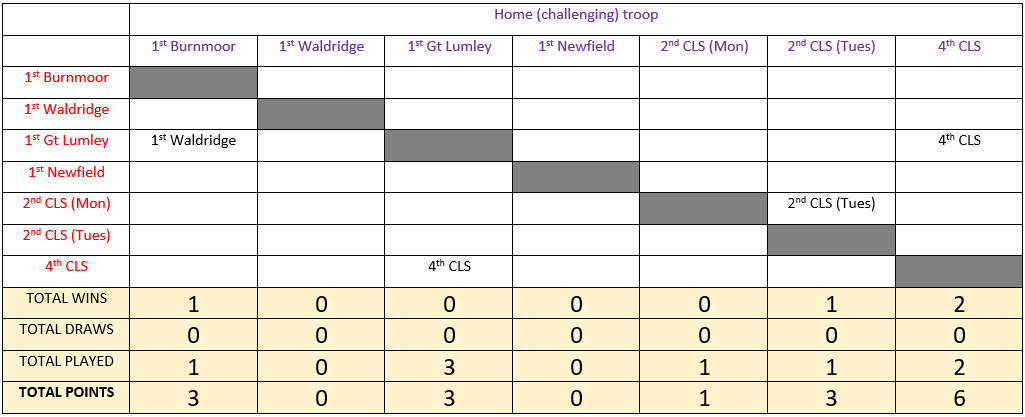 Challenge activities so far:
Wide games
Rounders
Scavenger hunt
Campfire challenge